为坚定文化自信,建设文化强国。弘扬中国传统文化,传承中华国粹经典。为书画爱好者打造一个学习、交流、切磋、共建共享,联合发展的高端服务平台。由中央艺术名家书画院发起成立的文化强国智库专家联盟,现推荐你加入并担任首批央美艺术智库专家。
To strengthen cultural confidence and build a cultural powerhouse. Promote traditional Chinese culture and inherit the classic essence of Chinese culture. To create a high-end service platform for calligraphy and painting enthusiasts to learn, exchange, learn from each other, jointly build and share, and jointly develop. The Cultural Power Think Tank Expert Alliance, initiated by the Central Academy of Fine Arts, Calligraphy and Painting, is now recommending you to join and serve as one of the first batch of experts in the Central American Art Think Tank.
洪志标,号凤山客。1939年出生于福建南安码头洪山。曾就读著名侨校南安国光中学。1961年毕业于福建师范学院艺术系(现为福建师范大学美术学院),1999年定居厦门市。他曾在安溪县(八中、二中、一中、安溪师范大专班)和厦门市公、民办中小学(博林、安厦、世平、翠英、塞上、公园、湖滨、龙山、人民二v小)大学(厦门兴才学院仼专家委员、艺术系美术教授)和厦门思明区老年大学等任教计60余年,桃李满园。他被审核评为中学高级教师、大学美术教授、厦门市思明区中国剪纸艺术非遗传承人。
Hong Zhibiao, named Fengshan Guest. Born in Hongshan, Nan'an Wharf, Fujian in 1939. I have attended the famous overseas Chinese school Nan'an Guoguang Middle School. He graduated from the Art Department of Fujian Normal University in 1961 (now the Academy of Fine Arts of Fujian Normal University) and settled down in Xiamen in 1999. He has taught in Anxi County (No. 8 Middle School, No. 2 Middle School, No. 1 Middle School, Anxi Normal College Class), public and private primary and secondary schools in Xiamen (Bolin, Anxia, Shiping, Cuiying, Saishang, Park, Hubin, Longshan, People's Secondary School) University (expert member of Xiamen Xingcai College, professor of art in the Department of Arts), and Siming District University for the Elderly for more than 60 years. He was reviewed and rated as a senior teacher in middle school, a professor of fine arts in university, and a inheritor of intangible cultural heritage of Chinese paper cutting art in Siming District, Xiamen City.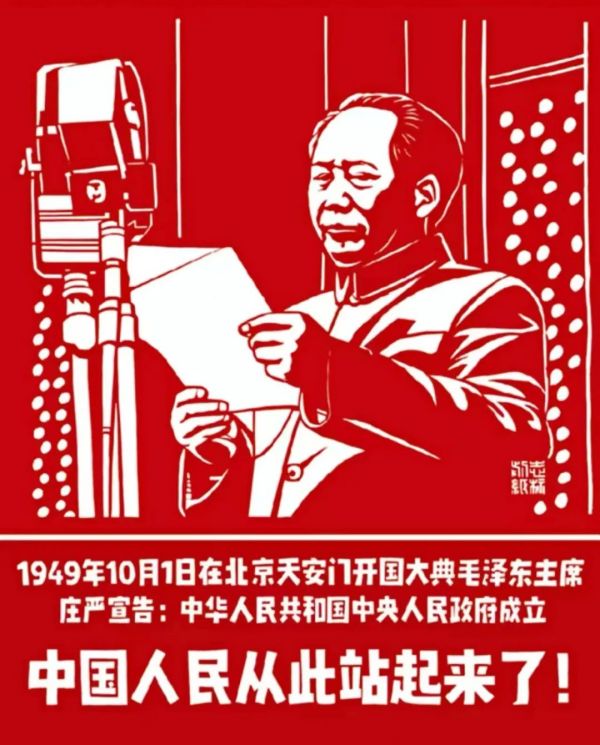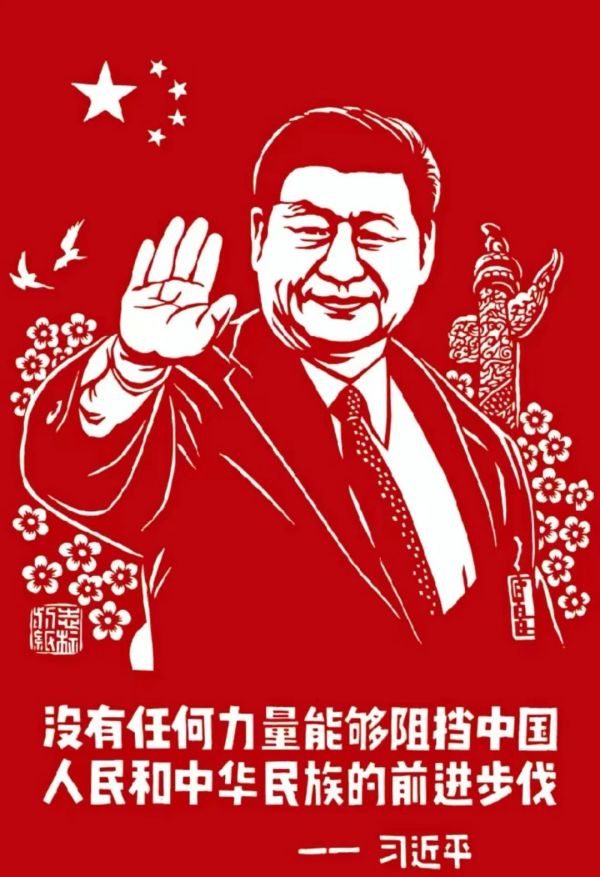 他的国画、素描、水粉画、书法、篆刻和肖像速写剪纸艺术。都有很深的造诣和底蕴,作品曾多次参加省市及全国展览,多次荣获教育部和教育学会等部门的奖励并发表《人民日报》、《美术》、《中国书画报》、《羲之书画报》、《福建画报》、《中华骄子》和《世界日报》等。他的书法和篆刻作品勒石于中国翰园碑林、陜西太白山崖石刻、西藏珠峰碑林等地。他发起並负责而成功组建了由时任中国书法家协会主席沈鹏题写碑名、副主席王学仲教授任组建会名誉主任的"安溪凤山碑林",为历史留下一座丰富的文化艺术宝库。他还经常拿起剪刀,以剪代笔,另辟蹊径,把高雅的美术艺术和民间艺术相结合,将美术艺术推动民间窗花的发展,他把中华民族优秀传统文化中的剪纸加以提高和升华, 推进了高雅的艺术境界。


His traditional Chinese painting, sketch, Gouache, calligraphy, seal cutting and portrait sketch Paper Cuttings art. They have deep knowledge and heritage, and their works have participated in provincial, municipal, and national exhibitions multiple times. They have won awards from departments such as the Ministry of Education and the Education Society, and have published works such as People's Daily, Fine Arts, Chinese Calligraphy and Painting, Xizhi Calligraphy and Painting, Fujian Pictorial, Chinese Pride, and World Daily. His calligraphy and seal cutting works have been used in China's Hanyuan Stele Forest, Shaanxi Taibai Mountain Cliff Stone Carving, Tibet's Everest Stele Forest and other places. He initiated and was responsible for successfully establishing the "Fengshan Stele Forest in Anxi", which was inscribed by the then Chairman of the Chinese Calligraphers Association, Shen Peng, and the Vice Chairman, Professor Wang Xuezhong, as the Honorary Director of the association, leaving a rich cultural and artistic treasure trove for history. He also often picks up scissors to use them as a substitute for writing, and blazes a new trail, combining elegant art with Folk art, promoting the development of folk window decorations with art. He improves and sublimates Paper Cuttings in the excellent traditional culture of the Chinese nation, and promotes the elegant artistic realm.


洪志标的剪纸既有北方纯朴粗犷、巧拙并济;又有南方细腻严谨,构图精巧、秀丽丰润的特点。他虽然年逾八旬,但紧跟时代步伐,近年创作出大批反映时代生活气息的鲜活作品,超凡脱俗。主题紧扣建党百年、全民奔小康、抗击疫情等重大题材,作品流传海内外,可谓老骥伏枥,志在千里。一枝画笔,笔笔传神,一把剪刀,刀刀精巧。洪志标把这画笔和剪刀技法传给了儿女、孙子,传入中小学幼儿园和大学校园,传进了社区,传到了大大小小的交流展演活动中,是世界非物质文化遗产中国剪纸艺术非遗传承人。


Hong Zhibiao's Paper Cuttings is simple and straightforward in the north, skillful and clumsy; It also has the characteristics of southern delicacy and rigor, exquisite composition, and beautiful richness. Although he is over eighty years old, he keeps up with the times and has created a large number of vivid works reflecting the atmosphere of the times in recent years, which are extraordinary and refined. The theme is closely related to major themes such as the centenary of the founding of the Communist Party of China, the pursuit of a moderately prosperous society for all, and the fight against the epidemic. The work has been widely circulated both domestically and internationally, and can be described as a veteran with lofty aspirations. A paintbrush with vivid strokes, a pair of scissors with exquisite knives. Hong Zhibiao passed on the brush and scissors techniques to his children and grandchildren, to primary and secondary schools, kindergartens and university campuses, to communities, and to large and small exchange and performance activities. He is the inheritor of the world Intangible cultural heritage Chinese paper cutting art intangible heritage.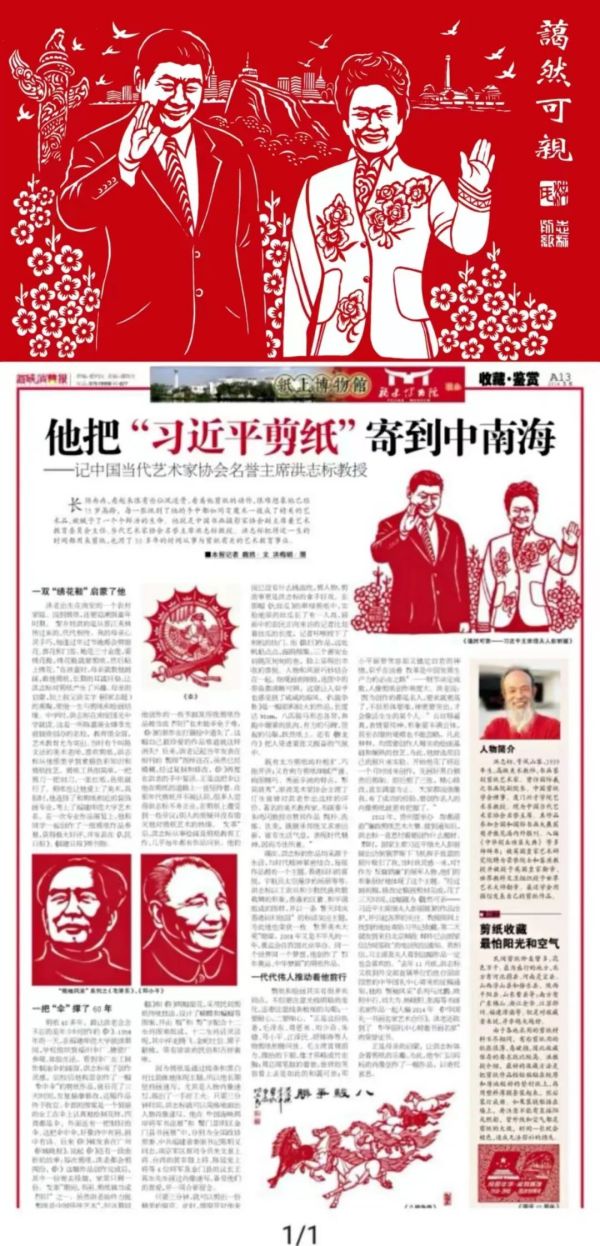 2012年,貴州要舉辦"涼都清韻"廉政剪紙藝術大賽。接到通知後,他选定"反腐倡廉的领军人物"的 题材,参加了福建沙县和贵州的剪纸大展,均受好评。其作品等还入选2014年《中华国礼一一书画名家艺术台历》。《海峡消费报》、《中华骄子》杂志和《大湾区时报》华人号,为此,洪老還收到了"中華國禮中心特邀書畫名家"的榮譽證書。

In 2012, Guizhou will hold the "Cool City Charm" Honest Paper Cuttings Art Competition. After receiving the notice, he selected the theme of "the leader of anti-corruption" and participated in the Paper Cuttings exhibitions in Shaxian County, Fujian Province and Guizhou Province, which were well received. His works were also selected for the 2014 "Chinese Rites - Famous Calligraphers and Painters Art Calendar". Hong Lao also received the honorary certificate of "Famous Calligrapher and Painter Invited by the China National Ritual Center" for the "Straits Consumer Daily", "Chinese Pride" magazine, and the "Greater Bay Area Times" Chinese account.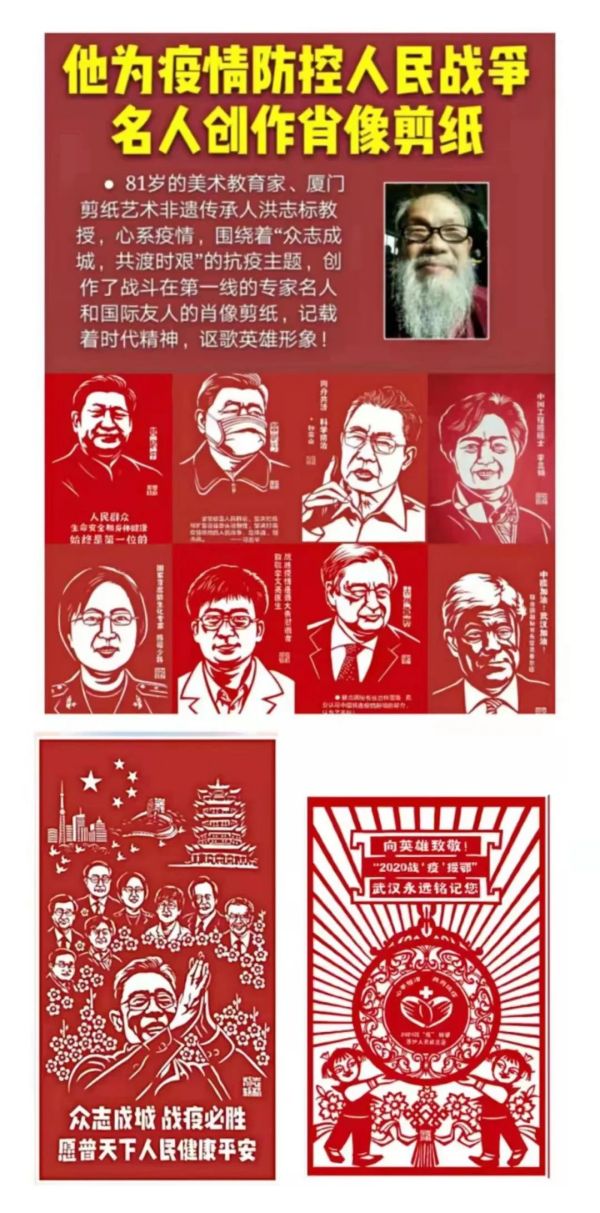 2018年,他创作的《不忘初心 砥砺前行》表现主席的光辉形象作品,被福建省政协、厦门市政协办公厅特邀,参加庆祝改革开放40周年书画摄影展览,並入编作品集。9月8一15日,洪志标教授偕夫人廖秀丽还到北京参加由联合国世界非物质文化遗产保护基金会和山水丹青(北京)国际艺术中心等单位联合举办的《魅力中国 闪耀世界一一中国艺术名家絲韵丹青洪志标6人书画联展》,他在开幕式上作了传承剪纸文化的精彩报告並展示了小孙子洪启峰的剪纸习作、他还当场为中央美术学院博士生导师陈长智老教授等作两分钟的国画肖像速写的表演,博得阵阵的掌声好评。期间主办方还分别发行了参展名家的纪念邮折。澳门《大湾区时报》还专版以《纪念中国改革开放40周年世界邮票上中国艺术名家洪志标全球首发》为题作了专版报道;他创作的《上海星河湾》被选送参加中国华侨历史博物馆举办的"新征程 再出发一一一庆祝改革开放40周年当代艺术大展"其作品被认为充分展示了中国民族之美、文化之美,得到了专家和社会各界人士的好评。

In 2018, his work "Forgetting the Original Heart and Striving Forward" showcased the glorious image of the Chairman. It was specially invited by the Fujian Provincial and Xiamen Municipal Political Consultative Conference Office to participate in a calligraphy, painting, and photography exhibition celebrating the 40th anniversary of the reform and opening up, and was included in the collection of works. On September 8-15, Professor Hong Zhibiao and his wife Liao Xiuli also went to Beijing to participate in the Charming China Shining World - Hong Zhibiao's Six Person Calligraphy and Painting Exhibition jointly organized by the United Nations World Intangible cultural heritage Protection Foundation and the Landscape Painting (Beijing) International Art Center. At the opening ceremony, he made a wonderful report on inheriting the Paper Cuttings culture and displayed his grandson Hong Qifeng's Paper Cuttings works He also gave a two minute performance of sketching portraits of Chinese paintings for Professor Chen Changzhi, the doctoral supervisor of the Central Academy of Fine Arts, and others on the spot, which won bursts of applause. During this period, the organizers also issued commemorative mailbooks for the exhibitors. The Macau "Greater Bay Area Times" also published a special page report titled "Commemorating the 40th Anniversary of China's Reform and Opening up with the Global First Issue of Chinese Artist Hong Zhibiao on World Stamps"; His work "Shanghai Star River Bay" was selected to participate in the "New Journey Again Celebrating the 40th Anniversary of Reform and Opening up Contemporary Art Exhibition" held by the Chinese Overseas Chinese History Museum. His work is considered to fully showcase the beauty of Chinese nation and culture, and has received praise from experts and people from all walks of life.

洪志标作品欣赏

Appreciation of Hong Zhibiao's Works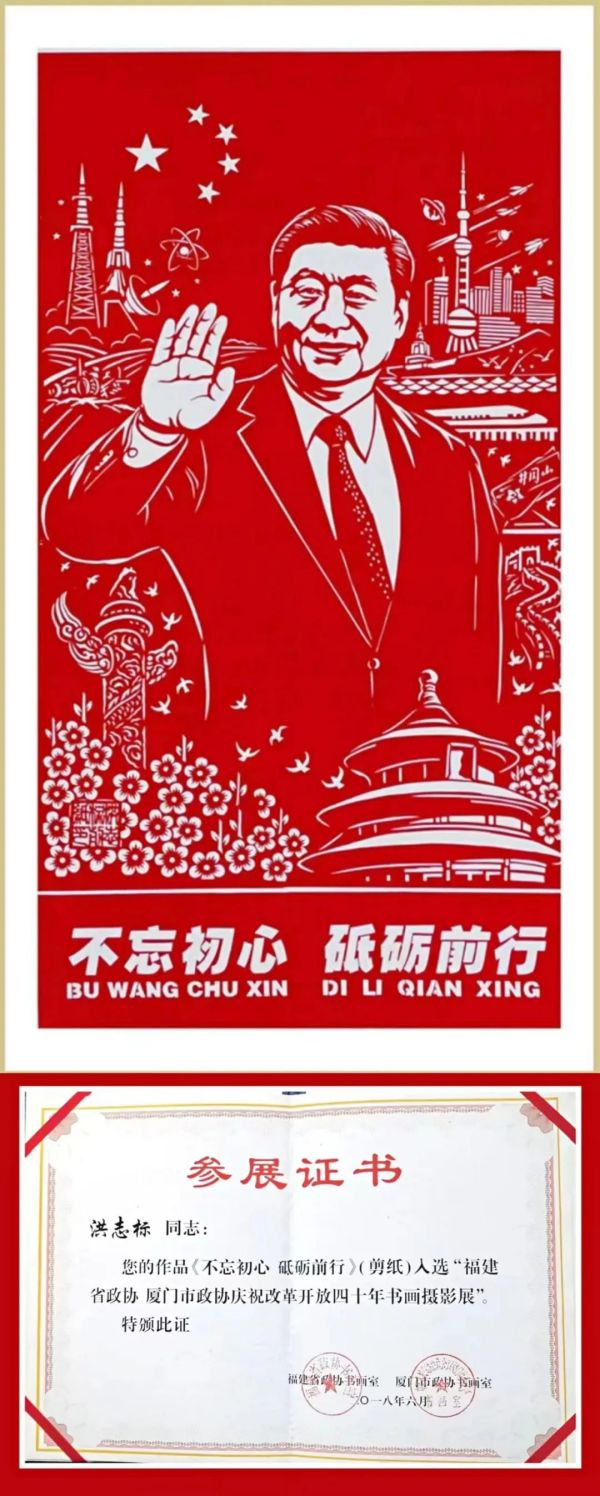 2019年,他创作的《台湾的前途在于国家统一,台湾同胞的福祉系于民族的复兴,祖国必经统一、也必然统一》剪纸作品,参加海峽两岸同胞书画展並发表台湾《中华时报》和澳门《环球华商报》等刊物。


In 2019, he created the Paper Cuttings work "The future of Taiwan lies in national reunification, the well-being of Taiwan compatriots lies in the rejuvenation of the nation, and the motherland must be unified and will be unified", participated in the calligraphy and painting exhibition of compatriots on both sides of the Taiwan Straits, and published publications such as Taiwan's "China Times" and Macao's "Global Chinese Business Daily".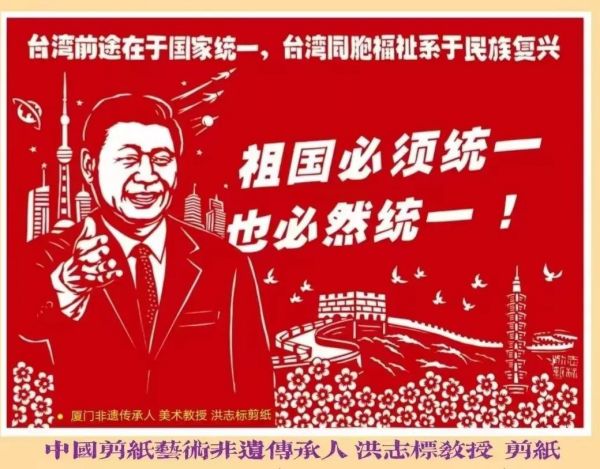 2020年他参加厦门市第十五届 社会科学普及宣传周活动的照片和《中国剪纸传承人洪志标教授的2020》(文/王卫江、摄影/洪昌发、洪伟财)图文并茂发表在2021年01月刊的中国新闻杂志社《时代.中国之声》的封面和内页P36一41,佳评如潮。


In 2020, the photos of his participation in the 15th Xiamen Social Science Popularization Week and the "2020 of Professor Hong Zhibiao, the successor of Chinese paper cutting" (article/Wang Weijiang, photography/Hong Changfa, Hong Weicai) were published on the cover and inside pages of Time, the Voice of China published in January 2021 by the China News magazine, with good reviews on P36-41.

2021年, 他创作的《华侨旗帜 民族光辉一一为纪念陈嘉庚创办厦门大学100周年而作》参加厦大书画展並入编作品选辑;他创作的纪念西藏和平解放70周年《欢歌载舞》作品被选作纪念邮票和入编《天路文华,艺术之巅》大型纪念画册;他创作的剪纸作品並由中国美术家协会分党组书记、副主席徐里题字的《春风何浩荡 桃李邑芳菲一一纪念留法一代宗师谢投八教授暨福建师范大学美术学院创办80周年而作》发表报刊並被母校收藏;纪念中国共产党成立100周年他的剪纸《中华民族迎来了从站起来富起来到强起来的伟大飞跃》等作品入编中国文联出版社出版的珍藏集《百年巨匠一一中国当代书画艺术名家精品集》。又经华夏国墨书画院、中国美术家协会、中国书法家协会等单位批准,特授予洪志标教授为德艺双馨"人民艺术家"荣誉称号。2021 年8月12日台海网还以《百年辉煌跃然纸上,八旬老艺术家"剪"出伟大中国梦》为题的采访视频作了报道。

In 2021, his work, "The Glory of the Overseas Chinese Banner -- To Commemorate the 100th Anniversary of Tan Kah Kee's Founding of Xiamen University", participated in the Xiamen University Painting and Calligraphy Exhibition and was included in the collection of works; His work "Singing and Dancing" to commemorate the 70th anniversary of the peaceful liberation of Annexation of Tibet by the People's Republic of China was selected as a Commemorative stamp and included in the large-scale commemorative album "Tianlu Wenhua, Top of Art"; His Paper Cuttings works were published and collected by his alma mater by Xu Li, secretary of the Party Leadership Group and vice chairman of the China Artists Association, who inscribed "He Haodang, Peach, Li, Yi, Fangfei -- In memory of Professor Xie Touba, a great master in France and the 80th anniversary of the founding of the Academy of Fine Arts of Fujian Normal University"; In commemoration of the 100th anniversary of the founding of the CPC, his Paper Cuttings works such as "The Chinese nation has ushered in a great leap from standing up to becoming rich to becoming strong" were included in the collection of "Hundred Year Masters - Collection of Chinese Contemporary Calligraphy and Painting Artists" published by the China Federation of Literary and Art Circles Press. With the approval of Huaxia Guomo Painting and Calligraphy Academy, China Artists Association, China Calligraphers Association and other units, Professor Hong Zhibiao was specially awarded the honorary title of "People's Artist" with virtue and skill. On August 12, 2021, Taiwan Strait Network also reported on an interview video titled "A Hundred Years of Glory on Paper, Eighty Year Old Artist" Cutting "the Great Chinese Dream".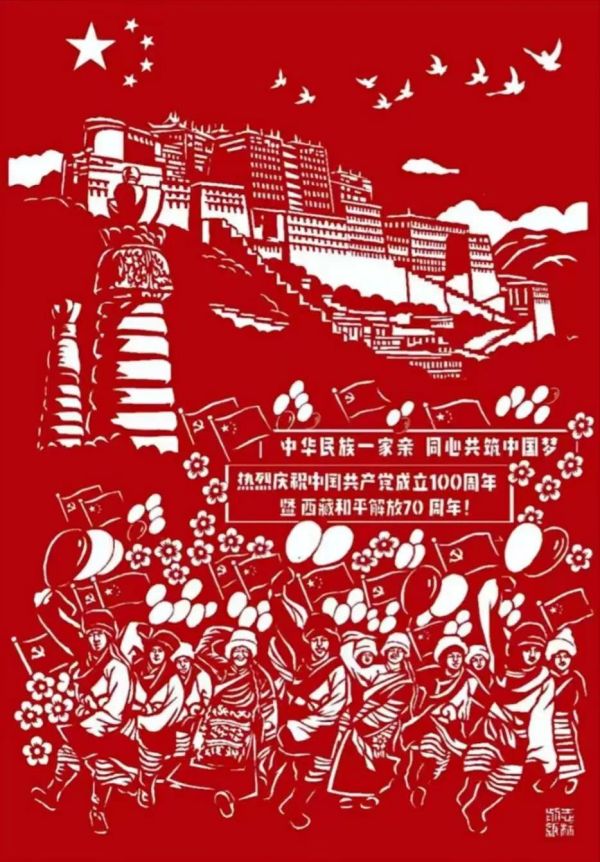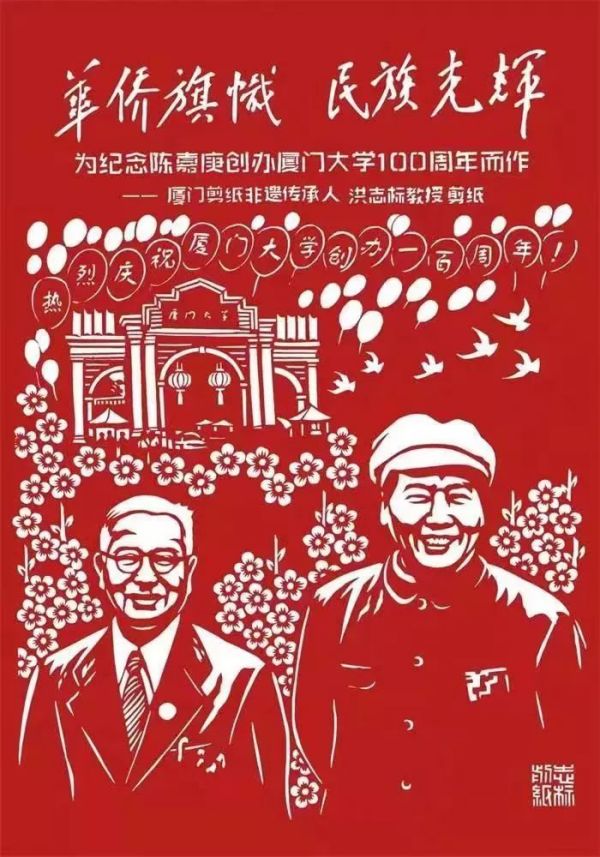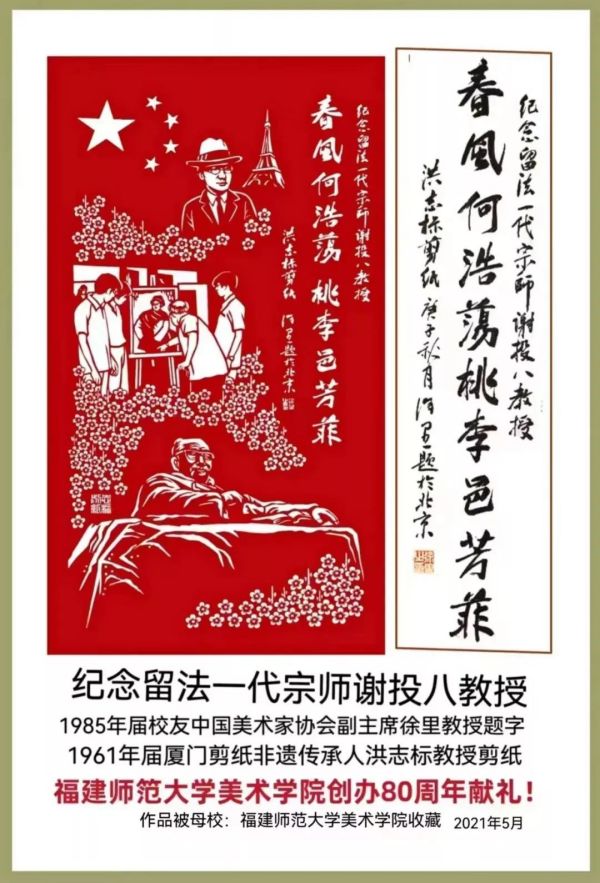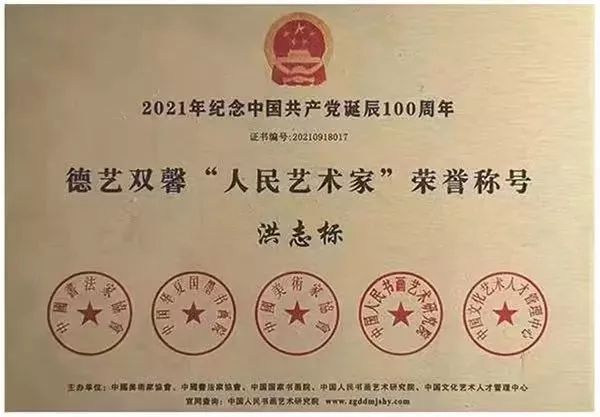 2022年7一8月号(总第376期)世界《华人》杂志曾以《洪志标教授的剪纸作品极具美学价值》专题作了4页版面的报道;8月28日澳门《环球华商报》董事局主席兼总编辑周新先生为即将出版的《洪志标剪纸艺术》画册撰写的序言《用剪纸"克隆"人物形象 , 一把剪刀书写艺术人生一一记中国剪纸非遗传承人洪志标教授的肖像速写和剪纸艺术》一文和洪志标剪纸艺术馆提供的作品选,曾在《环球华商报》、《世界经济发展报》、《国际商会联合报》、《世界名人书画网》(中英文版)和【拙学素人】、【静心园】美篇等媒体作了报道。

July August 2022 (total 376 issues) The World Chinese Magazine once made a 4-page report on Professor Hong Zhibiao's Paper Cuttings works with great aesthetic value; On August 28, Mr. Zhou Xin, Chairman of the Board of Directors and Chief Editor of the Global Chinese Business Daily in Macao, wrote a preface to the forthcoming album "Hong Zhibiao Paper Cuttings Art", "Cloning" Characters with Paper Cuttings, Writing an Artistic Life with a Scissor -- A Record of the Portrait Sketch and Paper Cuttings Art of Professor Hong Zhibiao, the successor of Chinese paper cutting intangible cultural heritage ", and selected works provided by Hong Zhibiao Paper Cuttings Art Museum The World Economic Development News, the United Daily News of the International Chamber of Commerce, the World Celebrity Painting and Calligraphy Network (both in Chinese and English), [Simple Scholars], [Jingxin Garden] and other media reported.


2023年他的艺术成就及其作品入选"致敬中国改革开放45周年暨联合国中文日——传承创新 文化榜样"主题邮票、(由联合国世界遗产保护基金会和欧洲集邮协会鉴制出版发行),【拙学素人】美篇媒体还以《洪志标作品入选联合国中文日纪念邮册》作个彩视报道、《环球华商报》6月22日【人物专版】还作了报道;2023年5月11他应邀参加革命老区南靖客家土楼梅林镇妈祖文化节釆风活动,他创作的大山里妈祖初稿得到联合国教科文组织世界非遗专家赵学勇教授的肯定並题字"妈祖信俗 客家土楼,世界遗产 文明之光一一为中国厦门洪志标教授剪纸艺术题"增辉,其作品即将问世。他还以主席和普京总统握手的形象及和平鸽和盛开的梅花创作了"中俄成为维护全球战略格极隐定的重要力量》剪纸作品参加了《爱我中华书画展》。


In 2023, his artistic achievements and works were selected into the theme stamp of "Celebrating the 45th Anniversary of China's Reform and Opening up and UN Chinese Language Day - Inheriting and Innovating Cultural Models" (which was produced and published by the United Nations World Heritage Protection Foundation and the European Philatelic Association). The [Humble Scholar] media also made a color video report with "Hong Zhibiao's Works Selected into the UN Chinese Language Day Memorial Album" On June 22nd, the Global Chinese Business Daily also reported on the People section; On May 11, 2023, he was invited to participate in the collection activity of Mazu Culture Festival in Meilin Town, Hakka Tulou, the old revolutionary base area of Nanjing. His first draft of Mazu in the mountains was recognized by Professor Zhao Xueyong, a UNESCO World Intangible Cultural Heritage expert, and inscribed "Mazu believes in Hakka Tulou, the light of world heritage civilization -- to add luster to Professor Hong Zhibiao's Paper Cuttings art topic in Xiamen, China". His work is about to come out. He also created a Paper Cuttings work "China and Russia become an important force to maintain the global strategic grid" in the image of the chairman shaking hands with President Putin and the Dove of peace of peace and the blooming plum blossom, and participated in the Love Me Chinese Painting and Calligraphy Exhibition.

洪志标的剪纸艺术作品还被厦门大学鲁迅纪念馆、陈嘉庚纪念馆、厦门市博物馆、上海市世界非遗中国剪纸博物馆、朱德率红四军出击闽中纪念馆丶厦门奥林匹克博物馆、江苏如臯世界神探李昌钰博士博物館、印尼华人客家博物馆、万隆亚非会议纪念馆等单位和名人收藏。他还为菲律宾杜特尔特总统创作了肖像剪纸並由记者送交他的女儿沙拉市长(现任副总统)並获她题写感谢的笔迹。

Hong Zhibiao's Paper Cuttings art works have also been collected by Xiamen University Lu Xun Memorial Hall, Tan Kah Kee Memorial Hall, Xiamen Museum, Shanghai Chinese paper cutting Museum, Zhu De and the Fourth Red Army's attack on Minzhong Memorial Hall, Xiamen Olympic Museum, Jiangsu Rushao World Spy Doctor Li Changyu Museum, Indonesian Chinese Hakka Museum, Bandung Asian African Conference Memorial Hall and other units and celebrities. He also created a Paper Cuttings portrait of President Duterte of the Philippines, which was sent by the reporter to his daughter, Mayor Sala (the current Vice President), and received her handwriting of gratitude.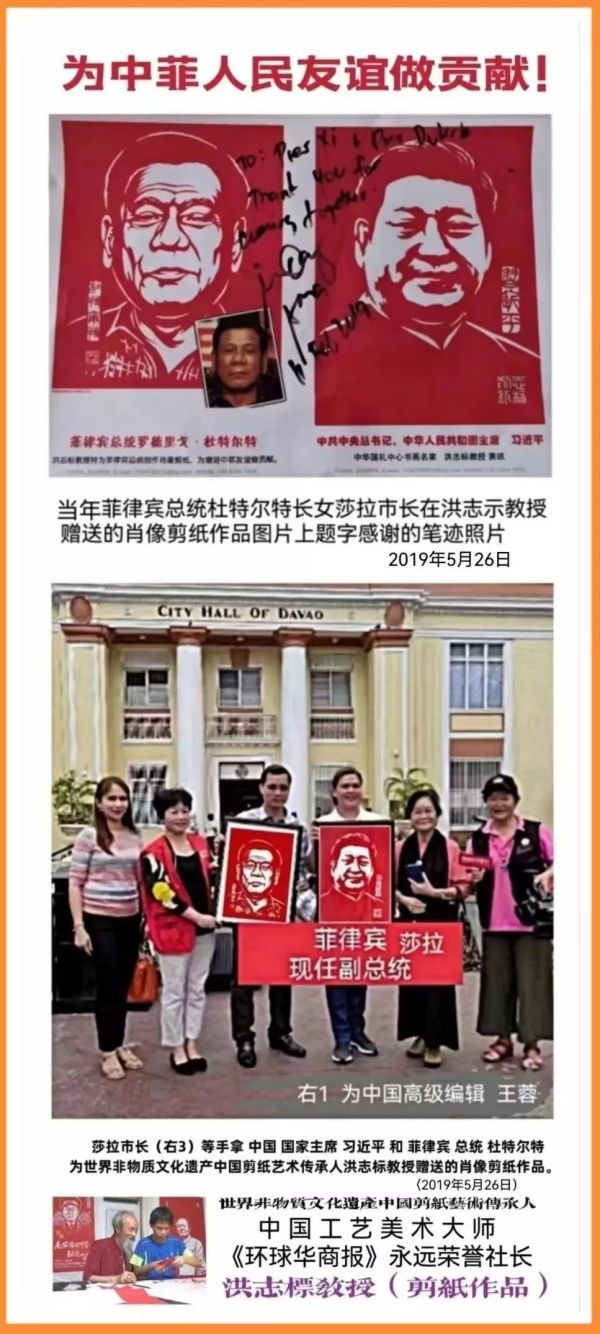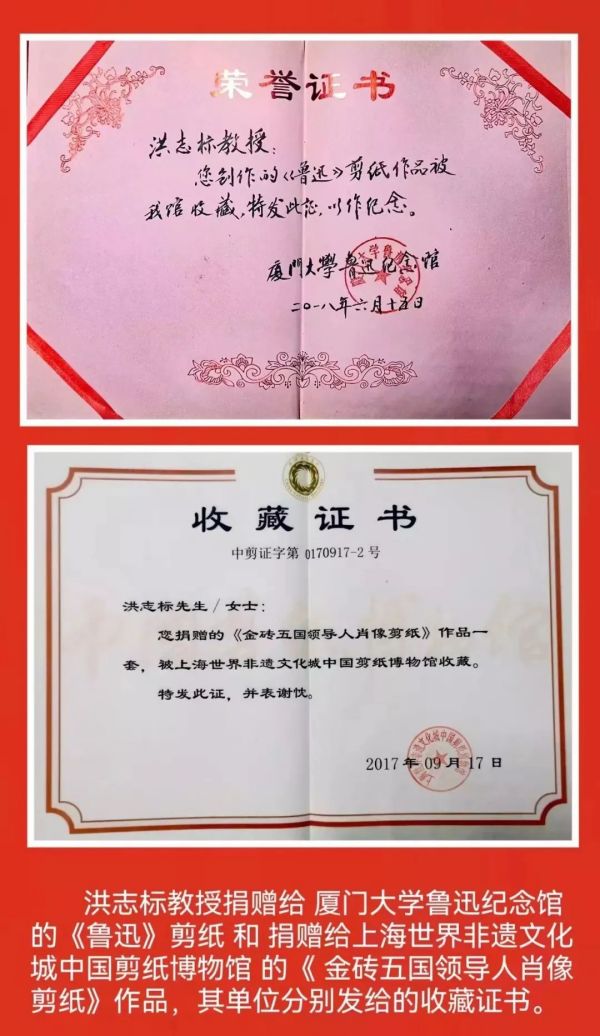 洪志标教授的艺术和教育成就还曾获得"世界美术大奖"、"当代艺术教育十大名师"称誉,"英国皇家勋章"和世界教科文组织颁发的"世界艺术大师勋章" 和相关的荣誉证书。 他的成就还入编《安溪县志》、《美丽福建看厦门.鹭城金光》大型画册、《中国美术家》、《中国书法全集》丶《中国当代剪纸艺术人名大典》、《中国当代楹联、诗词全集》、《中国高级专业技术人才辞典》、《中华创业功臣大典》、《中国当代名人录》、《世界名人录》、《世界当代书画篆刻家大辞典》、《世界艺术大师辞典》等几十部辞书和作品集。中央教育电视台和厦门卫视还对他的成就进行多次的采访报道。
Professor Hong Zhibiao's artistic and educational achievements have also been awarded the "World Art Award", the "Top Ten Contemporary Art Education Masters", the "Royal Medal of the UK", the "World Master of Art Medal" and related honorary certificates issued by UNESCO. His achievements have also been included in the Annals of Anxi County, Xiamen in the Beautiful Fujian, Golden Light in the Heron City, Chinese Artists, Complete Works of Chinese Calligraphy, Celebrities of Contemporary Chinese Paper Cuttings Art, Contemporary Chinese Couplets, Complete Works of Poetry, Dictionary of Chinese Senior Professional and Technical Talents, Celebrities of Chinese Entrepreneurs, Celebrities of Contemporary China, Celebrities of the World Dozens of dictionaries and collections of works, including the "World Contemporary Dictionary of Calligraphy, Painting, and Seal Engraving Masters" and the "World Master of Art Dictionary". CCTV and Xiamen TV have also conducted multiple interviews and reports on his achievements.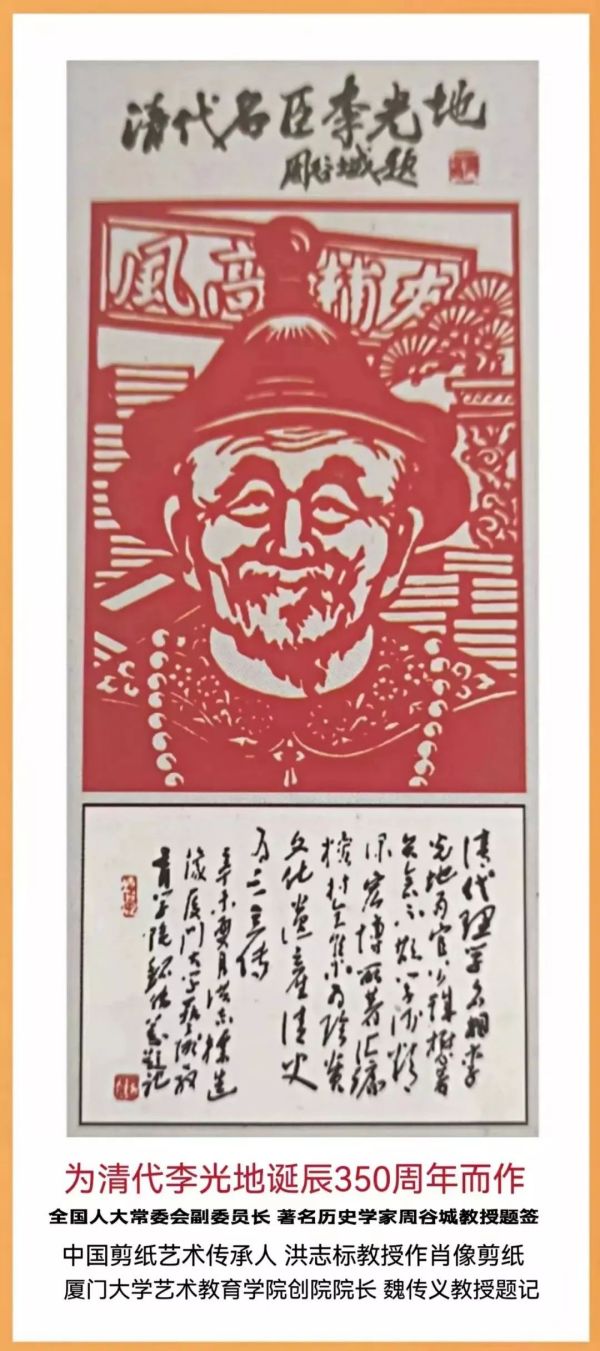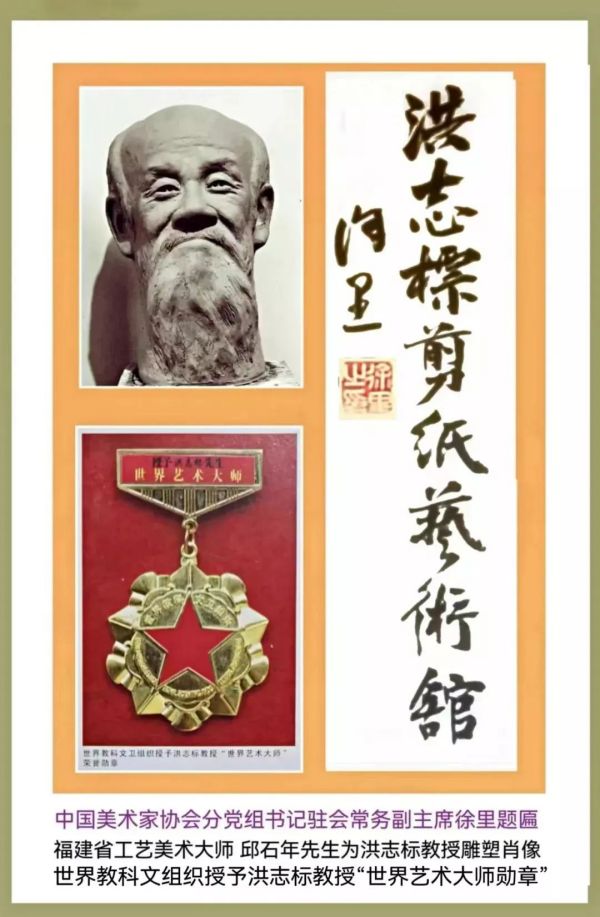 洪志标教授现为中国老教授协会、中国美术家协会福建分会、中国楹联学会、诗词学会、科普作家协会、教育学会等会员,他曾仼厦门兴才学院专业指导委员会专家成员、艺术系美术教授。是中国当代美术杂志社艺术委员会艺术顾问、 专家委员。世界华商精英联合总会荣誉会长兼书画分会会长、澳门《环球华商报》社永遠荣誉社长、中国大学台湾省社会科学研究院艺术研究所研究员。华夏世纪名家书画院名誉院长、中国书画摄影家协会副主席、中国当代艺术家协会名誉主席。香港群贤毕至书画院名誉院长、福建省幸福书画院、厦门市聚贤书画院、鸿鹭书画院、盈翠书画院、六桂堂书画院等顾问。中央艺术名家书画院首批央美智库专家、英国皇家艺术研究院、俄罗斯艺术科学院、意大利艺术研究院等荣誉院士兼客座教授。法蘭西皇家美术学院艺术学博士学位、加拿大阿尔伯塔大学荣誉博士学位。澳门国际太极文化学院荣誉博士学位。


Professor Hong Zhibiao is currently a member of China Association of Veteran Professors, Fujian Branch of China Artists Association, China Couplet Association, Poetry Society, Popular Science Writers Association, Education Society, etc. He was an expert member of the Professional Steering Committee of Xiamen Xingcai University, and a professor of fine arts in the art department. He is an art consultant and expert member of the Art Committee of China Contemporary Art Magazine. Honorary President of the World Federation of Chinese Entrepreneurs and Chairman of the Painting and Calligraphy Branch, Permanent Honorary President of the Global Chinese Business News in Macao, and Researcher of the Art Research Institute of the Taiwan Province Academy of Social Sciences, University of China. Honorary Dean of Huaxia Century Famous Calligraphy and Painting Academy, Vice Chairman of China Calligraphy and Painting Photographers Association, and Honorary Chairman of China Contemporary Artists Association. Honorary Dean of Hong Kong Qunxian Bi Zhi Calligraphy and Painting Academy, Consultant of Fujian Xingfu Calligraphy and Painting Academy, Xiamen Juxian Calligraphy and Painting Academy, Honglu Calligraphy and Painting Academy, Yingcui Calligraphy and Painting Academy, Liuguitang Calligraphy and Painting Academy, etc. The first batch of experts from the Central American Think Tank of the Central Academy of Fine Arts, honorary academicians and visiting professors from the British Royal Academy of Arts, the Russian Academy of Arts Sciences, the Italian Academy of Arts, etc. Doctor's degree in art from the French Royal Academy of Fine Arts, and honorary doctor's degree from the University of Alberta, Canada. Honorary doctorate of Macao International Tai Chi Bunka Gakuin.